Na de Jacht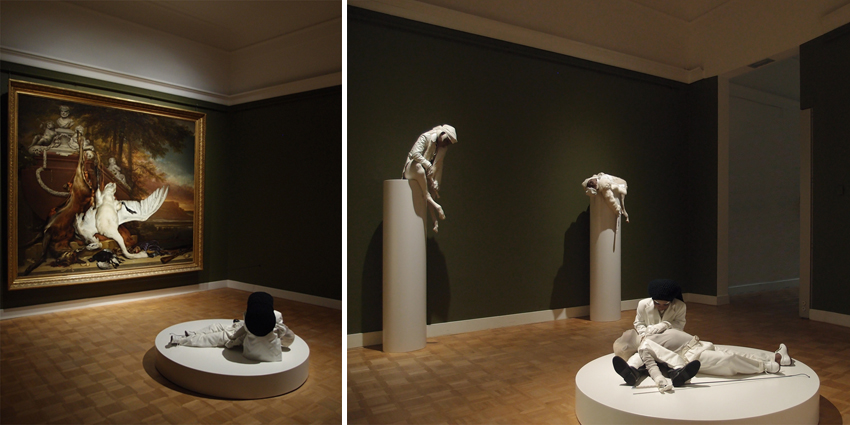 Currently Rijksmuseum Twenthe shows a particular Cabinet in which the Rotterdam artist Silvia B. (1963) combines her own work with the impressive painting 'Dead Swan' by Jan Weenix (1642-1719).
The early 18th-century painting by Weenix comes from the collection of the Mauritshuis, but is since August 2016 on long-term loan to Rijksmuseum Twenthe. The still life was in 1821 purchased by the Mauritshuis as counterpart for the Bull of Paulus Potter. The paintings hung at the time very close to each other, but today the museum finds the work of Weenix too large for the intimate rooms. This is why Dead Swan received a new home in Enschede.
Silvia B. immediately responded positively to the question of the museum to put together a cabinet in which her own work enters into a relationship with the painting of Weenix. Her Pieta M. & J. and the two satyrs Vino and Valentino create together with the lifeless, but sensual swan a scene in which the visitor is confronted with what rests after the hunting: the sorrow for the dead and the memory of the pleasure of the bacchanal.
Two of the three sculptures by Silvia B., M. & J. and Valentino, are acquired by Rijksmuseum Twenthe for the collection. This purchase has been made possible thanks to a contribution from the Collection programs of the Mondriaan Fund. The third sculpture, Vino, is donated to the museum by the artist on the occasion of the opening of her retrospective exhibition, Of Beauty and Doubt, november 20, 2016.
visit the series Les plus Beaux II